2 YEAR PEACE OF MIND ORTHOQUAD WARRANTY.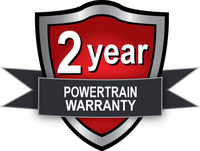 2 year FULL warranty, including:
1 year FULL warranty, including:
Brake

Bearings

Bushings

Rubber Components

Plastic components (except body)

Electronic Controllers

Charger

Harnesses

Any other electrical subassembly
WARRANTY EXCLUSIONS
This warranty does not extend to those items which may require replacement due to normal wear and tear.
Plastic shrouds

Motor brushes

Upholstery and seating

Brake Pads

Tires and tubes

Fuses/Bulbs
WARRANTY SERVICE
Warranty service must be performed by an authorized Orthoquad dealer. Please contact your authorized Orthoquad dealer for more informations.
There is no other express warranty.
GARANTIE ORTHOQUAD SANS SOUCI DE 2 ANS.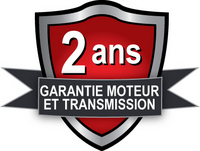 La garantie de 2 ans couvre les items suivants :
La garantie de 1 an couvre les items suivants :
Frein

Bearings

Bushings

Pièces de caoutchouc

Pièces de plastique (sauf pièce de carrosserie)

Contrôlleur

Chargeur

Fillage

Toutes autres pièces électriques et électroniques
EXCLUSIONS DE LA GARANTIE
Cette garantie ne couvre pas les éléments suivants qui nécessitent d'être remplacé suite à une usure normale.
Brosses de moteur

Siège et capitonnage

Plaquettes de frein

Pneus et chambre à air

Fusibles et globes
SERVICE DE LA GARANTIE
Le service de cette garantie doit être effectué chez un détaillant

Orthoquad. Veuillez contactez votre détaillant Orthoquad pour plus d'informations.